Kálmán Pongrácz aka Rovar17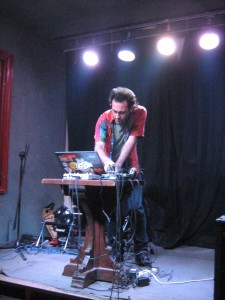 The method of the Rovar17 audio collage technique:
– first step: Creation.
We create some artificial organisms. Because we haven?t got pure laboratory, and we can?t groom the test-tubes and instruments, the generated living beings are black-hearted.
– second step: Sampling.
We investigate the evil beings & make video and audio record of their behavior. Eventually, finds are presented live to the audience.
The phenomenon of Rovar17 (Insect17 in English) was born 31st of august 2002, in the workroom of Kálmán Pongrácz. Levente Bod joined the band three days after, and they worked jointly through the end of 2004. They together created the albums Horsehead Nebula, Anything Else The Madness and English Letter with audio collage technique. The line-up widened with fine artist Zoltán Fekete in the debut concert. Zoltán was responsible for the visuals of our live acts. He played a few times in the Rovar17, but soon he made up his own band, first under the name Káoszütemező then Nautilus. Special thanks for the perfect concert sonority of the Rovar17 for Nándor Maller, he is our constant band tech, and has also appeared as a musician (he played either Expander Springs (an instrument of his own making), or a drum sampler.
Now the Rovar17 has been Kálmán Pongrácz's solo project, but different kinds of collaboration often occur with musicians, visual artists, performers and theater:
Krist_K, Fullogic, Enikő Buday, Lord Medúza, Attila Dóra, Maja, Radikális Szabadidő Theater, Emese aka Oscilla, PLE, Yann Is The Bastard, Amimal Machine and the Finita La Comedia Art Group.
This act has already seen more than 200 concerts and performances, and has played all across Hungary, in Serbia, Poland, Belarus, Germany, Macedonia, Bulgaria, Romania, France, Belgium, Switzerland, Spain, Slovakia, Czech Republic, Croatia, Slovenia, United States of America, Mexico, Italy, United Kingdom, Estonia, Latvia and Lithuania.